People, Places &
Pura Vida
15th annual Wonderful Women Adventure
February 8-18, 2020
Trip Highlights
Guided hikes and wildlife viewing in diverse micro-climates

Homestays and volunteer activities with local families in a premier coffee growing region

Secluded lodging and stunning vistas

Spotting colorful tropical birds in diverse habitats

Traditions, daily life and art of native community, Boruca

Sarapiqui: Pineapple, chocolate and coffee-hour conversations

Biodiversity magnificence - the Osa Peninsula and Corcovado National Park

Sharing and celebrating experiences with an amazing group of women
Part 1: Welcome to the Central Valley
Arrive at Juan Santa Maria International Airport, AND TRANSFER TO YOUR HOTEL IN NEARBY ALAJUELA.
February 8, 2020
You'll relax by the pool, begin to get acquainted with fellow travelers and enjoy our welcome gathering and dinner. The group will visit a unique coffee research farm and explore a family-owned botanical garden with myriad orchid species in bloom.
Accommodation: Hotel Buena Vista
Part 2: Caribbean Lowlands: Sarapiqui
February 9-11
With long-time Wonderful Women guide and good friend, Alex Alvarez, we'll travel by coaster bus to his home region, sARApiqui.
What better way to begin to know Sarapiqui than relaxing over coffee and conversation with Alex's mom?
We'll have more opportunities to see colorful tropical birds, butterflies and perhaps the "Blue Jean" frog as well as learn from locals about the region's pineapple industry and chocolate production.
Accommodation: La Quinta Sarapiqui Country Inn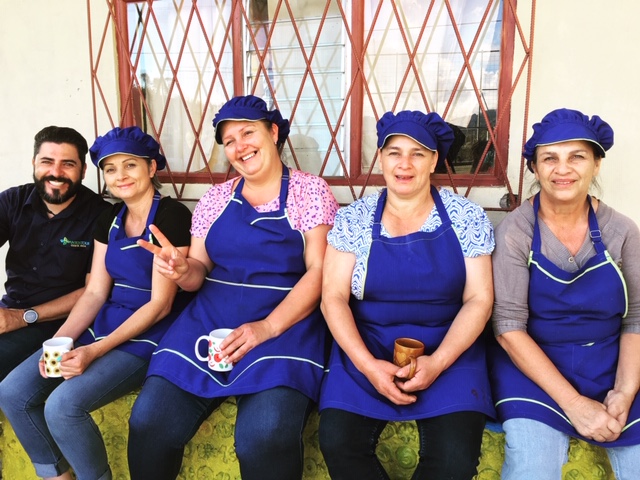 Part 3: The Los Santos Region
February 11-13 - from sarapiqui, we'll move on to time with local families in a premier coffee growing region
Stay with local host families involved in organic coffee growing and production in the community of San Pedro. Volunteer alongside men and women farmers, prepare and share a traditional meal with our homestay families, and experience local culture firsthand in this beautiful cloud forest setting.
Homestays and Volunteer Activities Associated With: Green Communities Costa Rica
Part 4: The Osa Peninsula
February 13-17 - From boruca traditions to biodiversity extraordinaire
Heading south you'll meet my long-time friend, Pedro Rojas, and his family as they welcome us to the native community of Boruca and offer an emotional introduction to its history, culture and artisanry. We'll then continue to Drake Bay and our stunning "home" overlooking the Pacific Ocean, La Paloma Lodge. Enjoy a guided wildlife hike and the rich biodiversity of Corcovado National Park as well as the peace, rainforest beauty, and relaxing serenity that surround us.
Accommodation: La Paloma Lodge
Part 5: Central Valley Finale
February 17-18 - return to the central valley and conclude our travels at the award winning organic coffee plantation and inn, finca rosa blanca
Join fellow travelers for a festive local celebration and dinner finale. Savor the trip's special memories and friendships before returning home on February 18.
Accommodation: Finca Rosa Blanca
OPTIONAL PRE-TRIP EXPERIENCE
SPANISH IMMERSION AND A TASTE OF COSTA RICAN CULTURE
Hosted by Personalized Spanish Language School
February 5-8, 2020
Join us for a language and culture program customized by Personalized Spanish School, a small boutique school in the community of Tres Rios, just outside of San José. Personalized Spanish has collaborated with Travel With Ann on more than a dozen programs since 2010.
In your two and a half days, you will have Spanish classes and related programming, stay with a host family and experience local culture, and get a jump start on your Spanish before the official Wonderful Women trip begins!
The details
Small classes with three students maximum.

University-educated instructors who teach to your level of Spanish and learning style.

Cultural activities include making tamales (Costa Rican style!) and an adventure in the Orosi Valley.

Homestays with Tico families- allowing you to practice Spanish in real life situations.

Typical foods include delicious tropical fruits, gallo pinto, and regional specialties.

School facilities include free wi-fi and unlimited international calls.

Price details
Wonderful Women 15 Trip Reserved BEFORE October 18, 2018 --- $3,945
Wonderful Women 15 Trip Reserved AFTER October 18, 2018 --- $4,145
Optional Pre-Trip
Spanish Immersion and A Taste of Costa Rica Culture Program
Program #1 --- $550
Small group classes; cultural activities
Program #2 --- $610
Small group classes; cultural activities; two hours private instruction
Wonderful Women 15 Trip Price includes:
Experienced bilingual guides
Accommodations and all but three meals (two lunches and one dinner)
All activities and entrance fees, unless noted as optional in the itinerary
Domestic flight from Drake Bay to Juan Santamaria International Airport
Wonderful Women 15 Trip Price does not include:
International travel to and from San José, Costa Rica
Transportation to the hotel on arrival day and to the airport on departure day
"Spanish Immersion and A Taste of Costa Rican Culture" pre-trip and other activities noted as optional in the itinerary
Two lunches and one dinner
Alcoholic beverages and personal purchases
Gratuities for primary Costa Rican guides, drivers and lodging staff
Optional Pre-Trip Price includes:
Airport pick-up and transfer to your home stay;
Choice of small group Spanish classes and cultural activities or small group classes, cultural activities, and two hours of private instruction;
Home stays (three nights; breakfast and dinner; laundry service);
All other activities associated with this program except three lunches, public bus transportation, and transfer to Hotel Boutique Jade in San Jose on February 6.
A small portion of participant registration fees will be contributed to the Osa communities we will visit on February 12-13.
Interested in learning more?